Taste Alsace on all occasions!
Alsace wines are protected by an appellation d'origine contrôlée (AOC) which guarantees the origin of the wines as well as the respect of the specifications in their elaboration, from the vineyard to the bottling.
OK, that doesn't tell you much about our wines…how to distinguish the different wines of Alsace, are you interested?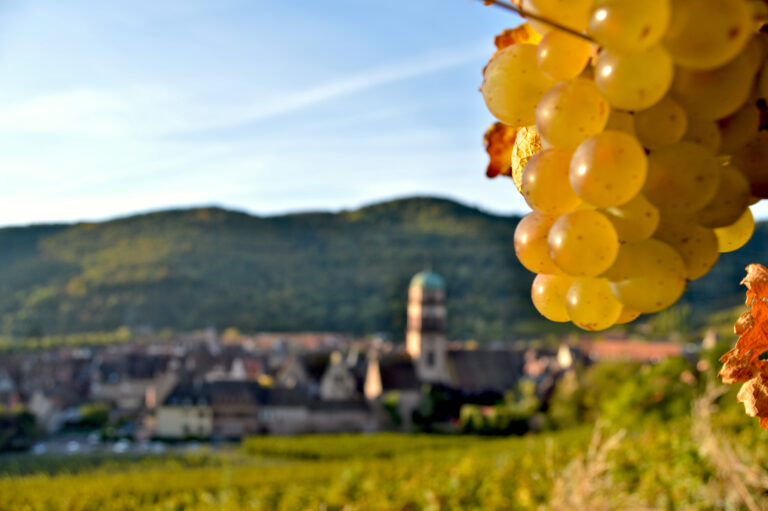 The 7 grape varieties of Alsace wine
For a long time, in Alsace, we mainly talked about grape varieties. But yes, you know, the 7 Alsatian grape varieties: Gewurztraminer, Riesling, Muscat, Sylvaner, Pinot Gris, Pinot Blanc and Pinot Noir (the only red wine)!
So yes, the grape varieties are a starting point for the discovery of Alsace wines, as the AOC Alsace is based on the grape variety and each one has its own characteristics: from the rather dry Riesling to the sweeter Gewurztraminer.
Most Alsatian winegrowers offer all 7 grape varieties.
What about blended wines? There are Edelzwicker and Gentil. Far from preconceived ideas, these beverages have their own identity and their own combinations with Alsatian gastronomy.
The terroirs and the Grands Crus of Alsace
Alsatian wine is not just about the grape variety: for several years now, winegrowers have been working more and more on the "terroir" effect, i.e. the influence of the soil on the wine. Thus, for an identical grape variety grown on two different soils (a chalky soil and a sandstone soil, for example), you will not have the same taste.
In Alsace, the "Grands Crus" appellations have been recognised for several decades for wines grown on soils with specific characteristics. There are 51 Grands Crus in Alsace.
And in the valley of Kaysersberg, we are not a little proud of it, but we have the privilege to be the Alpha and the Omega of the Grands Crus of Alsace! The Grand Cru Schlossberg, the first Grand Cru appellation in Alsace, was awarded to a terroir on the heights of Kaysersberg in 1975 and the Grand Cru Kaefferkopf, the 51st Grand Cru appellation, dominates the heights of the village of Ammerschwihr.
The Grand Cru appellation usually recognises single-vineyard wines. The Grand Cru Kaefferkopf in Ammerschwihr can also be a blend of Gewurztraminer, Riesling, Pinot Gris, and Muscat (yes, we like to do things differently in the Kaysersberg valley!).
Beyond the Grands Crus, Alsatian winemakers are increasingly working their wines based on the terroir of their vines. Thus, you will find more and more frequently AOC wines with mention of the grape variety and the terroir on which the grapes grew.
Les Grands Crus de la vallée de Kaysersberg
La vallée de Kaysersberg compte 7 appellations classées AOC Alsace Grand Cru :
le Furstentum, protégé des vents, sur les coteaux ensoleillés de Kientzheim et Sigolsheim,
le Mambourg, qui domine Sigolsheim,
le Marckrain à Sigolsheim,
le Schlossberg, première mention Grand Cru d'Alsace (1975) qui possède la surface la plus étendue (80 hectares) dans les vignes de Kientzheim,
le Sommerberg à Katzenthal,
le Wineck-Schlossberg, situé entre 280 et 400 mètres d'altitude, à Katzenthal,
et enfin, le fameux Kaefferkopf, qui signifie « tête de scarabée », faisant référence à un passage de hannetons, jadis. C'est le dernier Grand Cru qui a complété la liste depuis 2007. On le retrouve sur la commune d'Ammerschwihr
Vendanges Tardives and Sélections de Grains Nobles
Have you ever heard of Vendanges Tardives and Sélections de Grains Nobles? These two labels designate sweet and syrupy wines whose grapes have matured for longer to develop more intense aromas and a more pronounced sweetness. Rarer wines, therefore, with more complex aromas.
Let's not forget to mention the famous Crémant d'Alsace! The sparkling wine that you will find on every festive table in Alsace! Let yourself be surprised by its fine bubbles, its fruity freshness and its white fruit aromas. You'll forget all about its cousin from the Champagne region.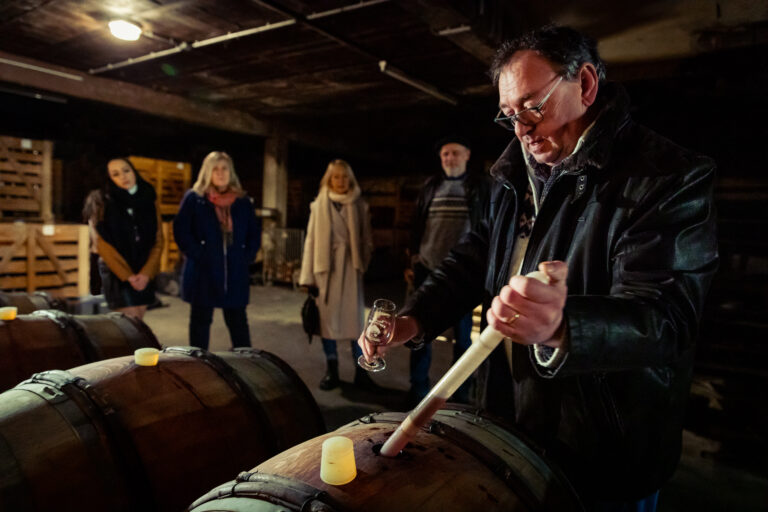 The know-how of the Alsatian winemaker
Finally, an important component that will determine the character of the wine beyond the grape variety and the terroir, is of course the winemaker's know-how, from the work in the vineyard (pruning, organic farming, etc.) to the vinification in the cellar. And the winemaker's work will really make the difference, because the winemaker leaves his mark, his character, his identity. This is why you may hear that one winemaker makes rather dry wines, another one rounder wines, etc.
This is important because there is something for everyone, so if you ask us what the best wines are, we won't be able to answer you, because your tastes will probably be different from ours!
So, Alsatian wines: table wines or wines for laying down?
For a long time, we heard that only red wines could claim to be wines for ageing and to improve over time. For a few years now, we have known that white wines, and in particular Alsace wines, also have ageing potential!
Of course, not all Alsace wines can claim this: take an Edelzwicker for example, a wine with a light structure and freshness that is a perfect accompaniment to salads and cold meats, it is not intended to age.
The story is quite different if we talk about a Riesling Grand Cru Schlossberg… yes, yes, believe us, go to a winegrower's door and see for yourself by tasting an old vintage, you will be bluffed!
Would you like an original and thematic tasting? Meet our winegrowers from the Parenthèse Vigneronne for a convivial and privileged moment of exchange, to discover the Grands Crus of Alsace. In a tasting formula, for a day combined with a meal with food and wine pairing or for a weekend in a comfortable accommodation in the Kaysersberg valley, take your pick.
There you go, now you have all the basics about Alsace wines!
You are ready to push open the doors of a wine cellar to meet a winemaker and discover for yourself the gold of the Alsatian vineyard through a tasting.
And if you need help to find a winegrower, we are here of course 🙂
Alcohol abuse is dangerous for your health, drink in moderation.