Advent time in Alsace
From the end of November, young and old alike begin preparations for the Advent festivities in Alsace: Christmas decorations adorn the facades of half-timbered houses, shops and buildings. At nightfall, the Christmas lights shine in the eyes of visitors strolling through the streets of the imperial city.
During the Advent period, it is also the occasion to prepare Advent wreaths at the flower shops, so that the spirit of the Alsatian Christmas invites itself into the homes.
A few weeks before Christmas, the Kaysersberg valley has a magical journey in store for you
The Kaysersberg Christmas market
The Christmas market of Kaysersberg is open the 4 weekends of Advent, i.e. the 4 Fridays, Saturdays and Sundays before Christmas, from 10 am to 8 pm.
This year, we welcome you on Friday 24 November 2023, at 10 am, for this wonderful storybook, which you will remember for a long time. At that moment, the doors of the magnificently decorated wooden chalets will open, and you will be able to meet the artists and craftsmen and discover their original and handcrafted creations. During your stroll, your senses will be awakened: come and savour the local specialities with a good glass of mulled wine accompanied by bredalas (small Christmas cakes)
Entertainment and concerts
Every year, the volunteers of the Noël à Kaysersberg Association offer visitors a Christmas exhibition on a theme dedicated to Christmas traditions. It is open during the 4 weekends of the Christmas market and during the Christmas holidays.
During this magical period, come and attend the Advent concerts every Sunday of Advent at 4pm, at the Sainte Croix Church. An emotional moment awaits you.
More wonderment on our special Christmas website in Kaysersberg: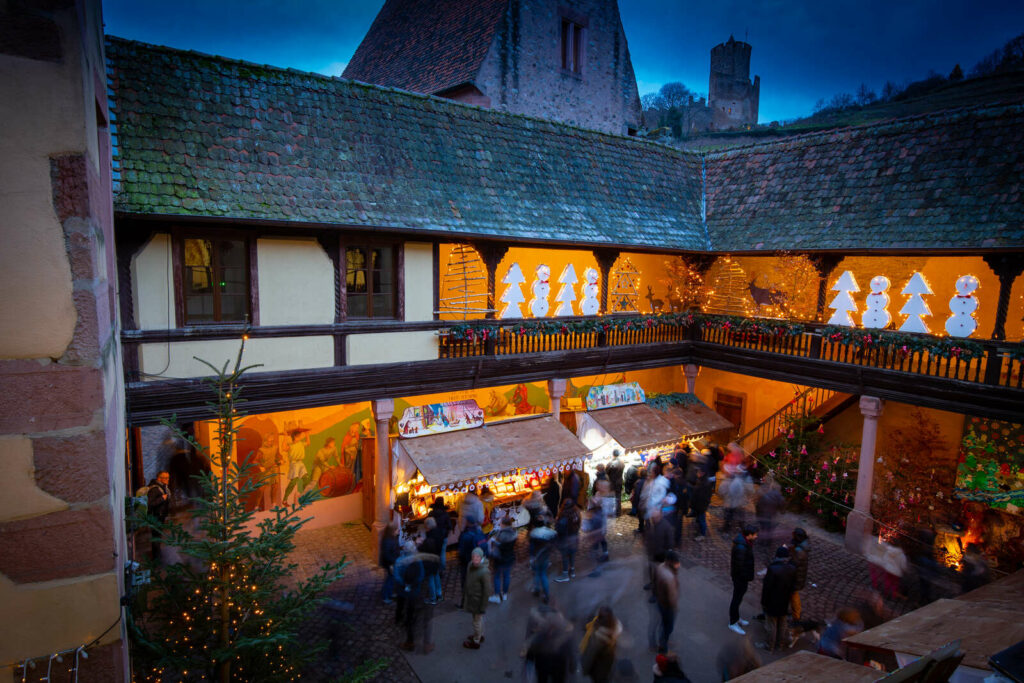 The Kaysersberg Christmas market, elected best Christmas market in France
The Kaysersberg Christmas market was elected "Best Christmas market in France 2022″ at the competition organised by RTL radio on 26 December 2022.