Do you want to go on a long-distance hike? The Kaysersberg valley helps you to take the plunge and (finally!) dare to venture out.
To get out of your comfort zone, there's no need to go far and wide: simply try a micro-adventure in the Kaysersberg valley. Meditative adventure, sporting challenge, desire to surpass yourself, thirst for a change of scenery, give it the meaning you want.
Our idea is to help you discover this rich and authentic territory at the rhythm of walking. We invite you to embark on an expedition in the middle of nature in a gentle and eco-responsible way: cross the forests, go through the vineyards, climb the peaks… at your own pace.
We have provided everything you need to facilitate your organisation and enable you to get from point A to point B with peace of mind. You will find practical information on the daily stages for all the routes and let yourself be carried away by the feeling of freedom and the magic of the landscapes.
Now all you have to do is set out on your own path and try the adventure of roaming! Read our advice for optimal preparation.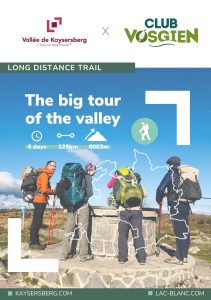 Would you like to discover the Kaysersberg valley at a walking pace?
We're offering a 125km itinerant loop, divided into 6 stages, linking the Alsace vineyards to the mountains of the Vosges Massif, taking in some of the region's most emblematic sites.